Success Stories

Jill G. - Sports Injury (Plantar Fasciitis)
I have played soccer (true football) for over 35 years and have had my share of injuries. Unwilling to hang up my boots I was desperate to find a physical therapist who would work with me to keep me on the pitch. I was referred to Dr. MacDonald after a bout of plantar fasciistic.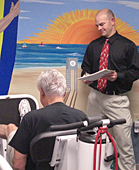 Dr. MacDonald gave me sport specific exercises that had me running and kicking in no time.  Not only is Dr MacDonald "on the ball," he is a credit to the physical therapy field.
Jill G., Long Beach (Soccer Super Star)


Lori H. - Whiplash Injury
Dr. Mac,
I wanted to "Thank You" for all of your help in improving my terrible whiplash injury. When I came to see you, I was in really bad shape. I wasn't even able to turn my head at all or hold my head up on my own. Your treatments helped immensely and in just my first visit to you, my range of motion was greatly improved. I am feeling much better and, thanks to you, have complete range of motion again, which I wasn't sure was possible in the beginning. Thank you again. I will definitely be referring my family and friends your way.
Lori H., Long Beach
Terry T - Rehabiliation of Injured Shoulder (Sports Injury)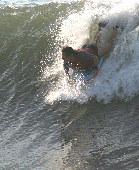 About 5 years ago, I severely injured my shoulder while bodyboarding. I had 3 torn rotator cuff muscles and a torn labrum. I had to have surgery to repair the damage and my doctor told me that my surfing days were most likely over. As part of my rehab, I went to Sunset Physical Therapy to work with Dr. MacDonald. She was wonderful. She devised a therapy plan specifically for my injury. Her caring, professional manner made me feel comfortable and hopeful that I was going to make good progress in my recovery.
Many of the exercises stretches I did in therapy, I am still doing today. My shoulder is completely healed and to this day, I still enjoy many of my favorite activities, surfing and swimming, on a scaled down level. I don't think I would have made such a great recovery without the care and guidance of Dr. MacDonald. I would recommend her services to anyone recovering from an injury or surgery.
She's the best,

Happily, Terri T
Bob K. - Rehabiliation of Broken Leg
I broke my leg, a very bad break. When in - home therapy ended, my doctor said I needed more therapy to correct my problem, and Sunset Physical Therapy was recommended. I had never had physical therapy before I broke my leg. Sunset was great. Within a few weeks my stability had greatly improved, and I was walking much straighter.
Karl was very professional, and knew what was best for me. I would not hesitate to recommend Sunset Physical Therapy to anyone in need of physical therapy.
Bob K., Long Beach
Marilyn and Dag L - Rehabiliation of Multiple Injuries
My husband and I have both been privileged to have Rob MacDonald's care, expertise, and friendship over 8 years.  We have progressed very well with everything from back discomfort, hip and foot dysfunctions, and neck injuries.  He has taken very good care of us and taught us to care better for ourselves!   

Marilyn and Dag L., Irvine 
Orie O. - Rehabiliation of Foot Injury
When I came to Gina MacDonald, I was in such agony. Every step I took was excruciating. The therapy I have received from her, which was a deep foot massage and foot stretching has helped me tremendously. I am now coming to Gina MacDonald for back therapy. I recommend her for physical therapy.

Orie O., Seal Beach
Leah S. - Rehabiliation of Foot and Knee Injuries
To whom it may concern,
It was my good fortune to have Dr. Robert MacDonald at Sunset Physical Therapy recommended to me for my therapy following two surgeries.
Dr. MacDonald first worked with me after I had heel and Achilles tendon surgery. Seven weeks later I had a total knee replacement. As soon as I was released from out patient therapy, Dr. MacDonald successfully worked on both surgery sites three days a week for two months.
He has great knowledge of the way the body works and how it recovers. He uses a lot of manual manipulation along with exercises for strengthening and stretching.
Dr. MacDonald works directly with his patients on a one-on-one basis. I attribute my wonderful recovery to his work and guidance. Upon my release from prescribed therapy, Dr. MacDonald set up an exercise schedule and routine for me to work on at the gym and at home.
My therapy experience at Sunset Physical Therapy was extremely productive.
Sincerely,
Leah S.
Clare and Darrell E. - Rehabiliation of Multiple Injuries
We are pleased to highly recommend Dr. Robert MacDonald and his staff at Sunset Physical Therapy for their professionalism and their ability to assist in recovery from surgeries that require physical therapy.
Clare used their services in 2002 to recover from rotator cuff repair in both arms and was able to return to her volleyball tem, which participated in National Olympic Senior play. In 2004 she also was treated by Dr. MacDonald for recovery from surgery on a tendon repair in her right foot.
Darrell used their services in 2004 to recover from a total right hip replacement and was able to return to his normal activities, including golf.
We both feel that because of Dr. MacDonald's expertise we were able to return to our life faster with fewer problems. We highly recommend him to anyone in need of physical therapy.
Clare and Darrell E.
Bruce - Sciatic Issues
Karl...
I came to your office last Monday (Nov.l, 2010) with a 2+ year history of sciatic issues. You examined me and put me through a few exercises, and determined that my problems were caused by weak glutes ... KarL .. you are a MIRACLE WORKER!!!! I took your advice directly to L.A. Fitness and started a program of push backs, sliding leg presses, and light dead lifts. I have been 100% pain free for the first time in over 2 years!!!!
I want to thank you for your professionalism in diagnosing an issue that has eluded more doctors than I would like to admit. I can't, yet, express what it is like to have no pain. At some point, I will be able to express it .... But for now .... 1 am going to enjoy a pain free existence!!!!
Thanks Karl!!!!!!!!
Bruce
Nancy - Pelvic Fractures and Left Leg Instability
Sunset Therapy
Five Star * * * * * - Plus!!
Please accept my highest recommendation to Dr. Gina MacDonald for physical therapy.
I began my treatment with 3 pelvic fractures and no movement or stability in my left leg. I finished treatment walking normally.
Gina contributed 100% to my recovery. I will always remember and be greatful to her and the staff for their high standards and excellent results.
A Happy and Grateful Patient,
Nancy K.
Seal Beach Resident